The Prairie Dog brand was established in 1968 by Bill C. Edwards. Since then we have been building high quality but inexpensive boring equipment used by municipalities, service companies and contractors all over the world. We continue to be the leader in small, easily portable machines capable of boring in a wide range of soil conditions. We pride ourselves on building rugged, dependable machines that are easy to operate but work quickly without the expense of unnecessary technology or additional equipment. We also believe in providing an excellent customer experience before, during and after the sale.
Introducing the answer to a more compact machine to replace air powered missiles and bullet moles! The Prairie Dog 700TWG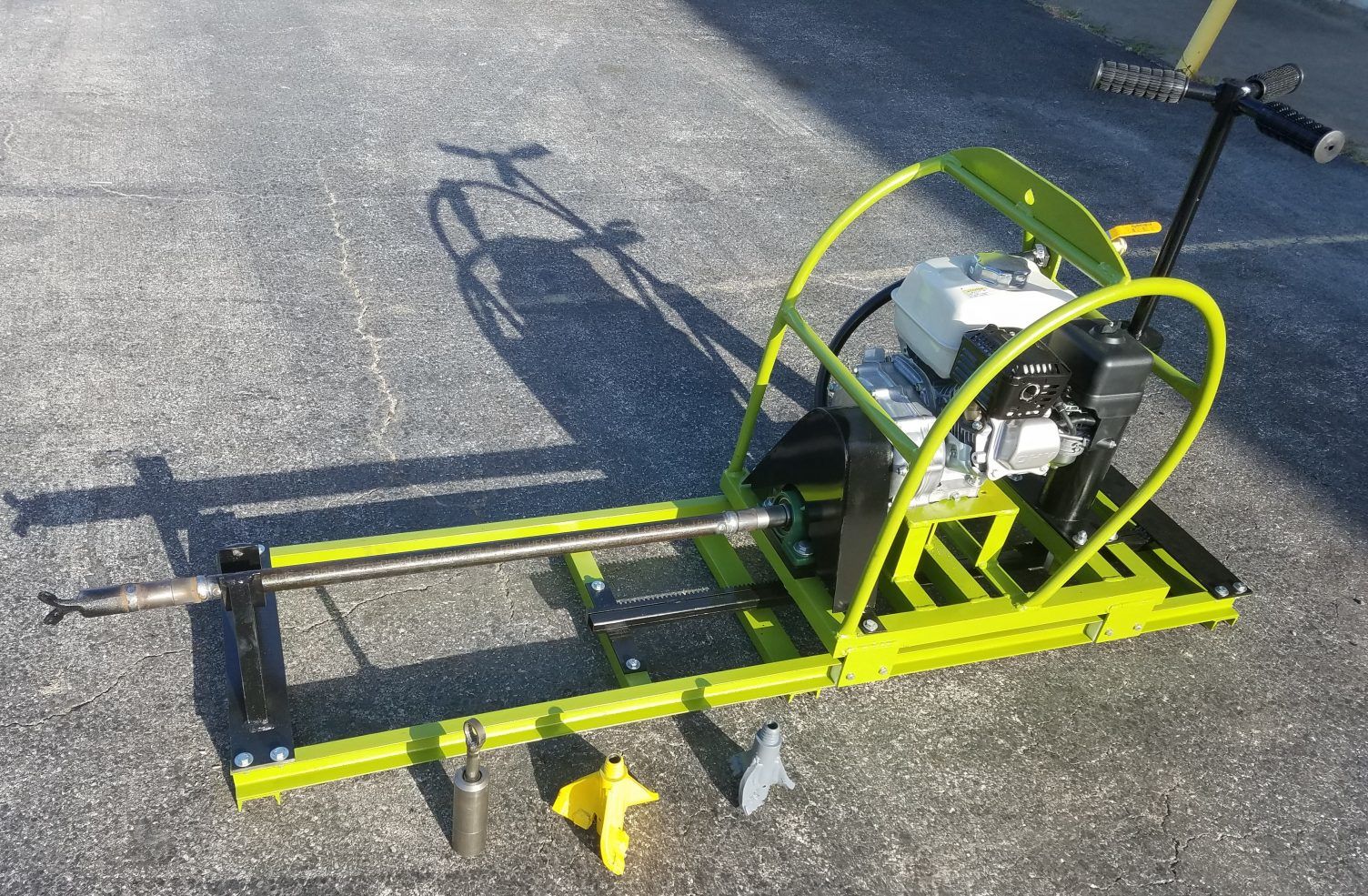 Our customers love the accuracy of the Prairie Dog line of boring machines. Up to this point, however, the length of our traditional machines has not been conducive to replacing their less accurate missiles. The Prairie Dog TW line has required a bore pit a minimum of 8 1/2 feet long. The typical missile requires a pit only about 5 1/2 feet long.
Introducing the Prairie Dog 500TWG. A shorter version of the 700TWG that delivers all the accuracy, power and variety of the longer version but in a frame that fits in the same size bore pit as a missile or bullet mole. We cut down the frame size by 3 full feet but only had to shorten the rod by 1 1/2 feet. Drill rods are 2 1/2 feet long and feature the same Prairie Dog SMSD thread which couples and uncouples in only a turn and a half.
The machine can bore a 2″ hole up to 100 feet in length and back ream up to 6″ diameters. Missiles simply don't offer that kind of versatility. They are typically limited to one size without modification that affects performance and possibly even warranty. Missiles can veer wildly off course, so much so that they are being "outlawed" in some areas of the country because they can come up through the pavement you are trying to avoid disturbing. With a Prairie Dog, because the drill bit and rod is tied back to the stationary machine, severe variations in direction are much less likely. Learning to use the machine is a breeze. Just take a look at this testimonial from a satisfied customer:
"As a first time user I can say that The Prairie Dog Boring Rig is pretty simple to use. I made a 60ft bore and came out within a foot of where I expected to. Great piece of equipment!"
Travis Bryan Ms. Band of Choctaw Indians Public Works Dept. Choctaw Ms. – Model 900TW
Dirty, moist air severely limits the lifespan of air powered missiles. Other than a water supply at typical municipal pressures nothing else is needed to operate a Prairie Dog machine unlike missiles or bullet moles that require an air compressor which, in itself, is expensive to own and maintain.
Prairie Dog machines feature quality components like Honda engines and are built to last. Some of our machines are still in service after 20+ years with only minor maintenance.
Everything you need including the machine which weighs in at about 150 pounds will fit in the back of a pickup truck.
For more information, give us a call at 281-448-8442, toll free at 866-631-3786 or email banderson@undergroundequip.com